Lend me your ears and I'll sing you a song.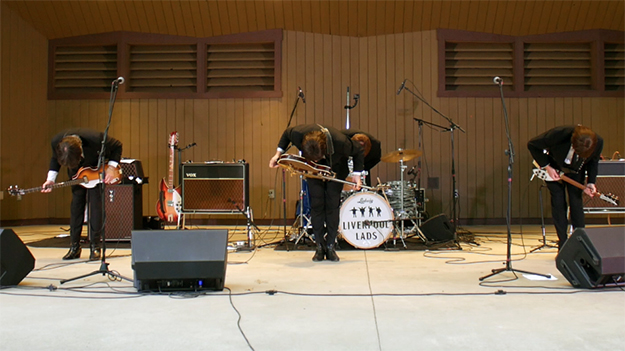 Based in Northeast Ohio, The Liverpool Lads have been entertaining and surpassing audience expectations at various venues since 2009. Whether it's a corporate event, nightclub, private party or public concert, it's always a thrill to perform for and meet audiences' of all ages! The Lads pack as much Beatles music from 1962 - 1970 as possible into our shows. You can expect the hits, but we also perform B sides and album cuts in our shows. We perform in costume and use replica vintage instruments. The Liverpool Lads are four dedicated musicians who give it their all for Beatles fans every time out. We'll gladly travel up to 1500 miles to perform for you!
"AWESOME PERFORMANCE! The Liverpool Lads show is definitely a crowd pleaser. They attracted a crowd of at least 2,000 and all of them had their feet tapping and their hands clapping the entire show. The Lads keep the show rolling with very little time in between songs and keep the crowd interested the entire performance. Highly recommend booking them for your next event!"
— Julie Norris, Buhl Farm Park
"THE LIVERPOOL LADS WERE AWESOME! Everything about working with the Liverpool Lads was great! From booking the show through the performance, it couldn't have been a better experience. The show was awesome! Not only were people singing along, but we also had to clear space for a bigger dance floor. There were so many great comments afterwards. I would highly recommend the Liverpool Lads!"
— Nancy Jenkins-Arno, Hudson High Athletic Boosters, MI
Be sure to follow the Lads on Facebook and Instagram.